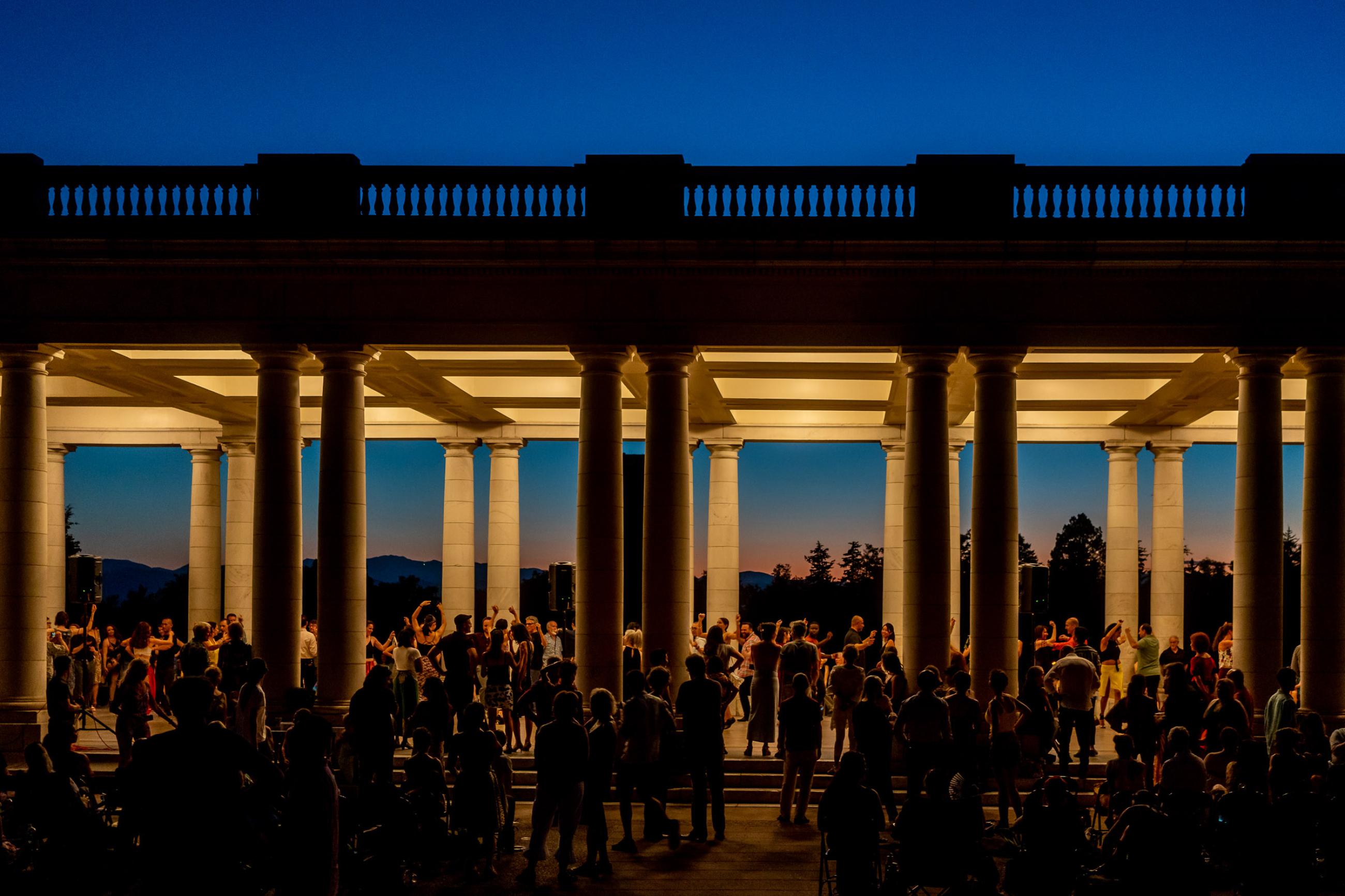 About the 2023 Denver Close Encounters Festival
A Tango weekend blending an Encuentro, a Marathon and the excitement of the Milongas of Buenos Aires. Three days of tango dancing with an emphasis on the Close-embrace and traditional social codes. Top DJs are selected for their sensitivity to the passion and energy of the dancers and their love of the famous Golden Era orchestras.
May 26 - 28, 2023
Friday, Saturday & Sunday
Denver Turnverein, 1570 N Clarkson
Pricing: $140 single, $280 couple. (Note price drop - early payments will be reimbursed)
Attendance limited: This event WILL sell out. Register early to guarantee a slot.
Like a Marathon - Dancing afternoon and evening; With "early" 1:00am endings for recuperation.  
Like an Encuentro - Limited to 160 role-balanced participants; single ticket for the weekend.  
Traditional Milongas like Buenos Aires - Dance floor with tables and seating for all, Close-embrace, floor craft & lanes, mirada & cabeceo.
This festival is for you if you love Buenos Aires style social dancing, and are good at navigating in a close embrace.
Milongas & DJs
Friday Evening 7:00pm - 1:00am: "Milonga Quilombo": Avik Basu, Michigan
Saturday Afternoon 12:00pm - 5:00pm  "Milonga de la Tarde": Martin Rybczynski, Colorado
Saturday Evening 8:00pm - 1:00am "Milonga Elegante": Robin Tomas, New York
Sunday Afternoon 1:00pm - 4:30pm "Milonga El Yeite": Fatima Hirji, Colorado
Sunday Evening 6:00pm - 10:00pm "Cheesman Park Outdoor Milonga": Tango Colorado/TBA
Details
All events except the Cheesman Park milonga will take place at the Denver Turnverein, 1570 N Clarkson St, our dance facility East of Downtown Denver. There is plenty of parking at the venue. For those staying downtown, you could leave your car in the lot.
Nearby motels are not recommended based on previous reports. I have secured a block of 30 rooms at a downtown hotel for $139/night (plus taxes) which includes a breakfast coupon. 
Hotel Details:
The Festival Hotel is an easy train ride from the Airport, plus a free shuttle up the 16th Street Mall -  literally a one-block walk to the hotel. Uber/Lyft have reasonable prices during the day, and milongas will end at 1:00am with the intention that plenty of locals will be around to share or offer rides back to your hotel. 
Arrive early afternoon on Friday, and you could enjoy a British Tea in the very elegant, old Brown Palace Hotel across the street. Tea turns into cocktails and a piano bar at 4:00.
Meet your festival friends for breakfast buffet at 9:00. Service on Saturday & Sunday goes until 10:00.
Holiday Inn Express Downtown. More of a a "Holiday Hotel" I guess, with recently renovated rooms.

$139/night including breakfast buffet. (plus additional taxes)

1715 Tremont Place
Reservation Link:
(I had to click twice the first time, maybe due to the "accept cookies" button.)
Special Speed-Mixer Events
The first hour of the first two milongas (Friday evening & Saturday afternoon) will feature guided, "Speed-Mixer" encounters intended for personal introductions and to encourage you to fill out your dance cards for later. Tom Stermitz will guide through some simple navigational elements designed to provide a common shared vocabulary and an awareness of the line of dance. We'll have name-tags and change partners frequently. The topic for Friday at 7:00 is "Meta Lazy-Infinity Milonga". The topic for Saturday at 1:00 is "Rhythmic Drive in the Cross Basic".
Codes, Cabeceo & Assigned Seating
One contribution from the Encuentro tradition is to follow traditional Buenos Aires milonga codes and have seating for every participant. Many traditional milongas separate the Leaders and Followers into different sections. Less traditional milongas are more free-form.
For this event we will suggest different seating arrangements for each milonga and then we'll request feedback after the event as to the benefits and difficulties of each arrangement. Seating will be set up to honor the dance floor, make it easy to enter and exit the floor, and encourage navigation in lanes. Chairs and tables will be provided for everybody. In case of a few extras, we'd like to ensure that all followers have a table, a seat and home base from which it is possible to catch the eye of a leader to get a dance via a cabeceo.